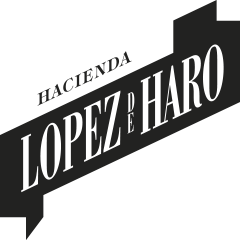 Hacienda López de Haro
30 meses
Complex, intense and artisanal. The most special and limited production Lopez de Haro wine
Awards
Gold Medal
International Wine & Spirit Competition 2016. 2008 vintage.
Silver Medal
Tempranillos al mundo 2015. Lisbon. 2008 vintage.
Bronze Medal
Decanter International Wine Awards 2015. UK.  2008 vintage

Varieties: Tempranillo and Garnacha.
Ageing: Aged for over 30 months in new French oak barrels. Quaterly racking. Bottle aged for at least three years.
Harvest: Handpicked during the month of October.
Vineyard: A selection of old Tempranillo vineyards with very low production located in the area of Sonsierra and old Graciano vineyards located at high altitudes in the area of Cárdenas.
Winemaking: Fermentation in 500-litre open barrels made with French oak, where plunging is carried out on a daily basis, following a traditional process. Malolactic fermentation is carried out in new French oak barrels, where the ageing subsequently takes place.
Alcohol content: 14,5%
Tasting notes
Colour: Deep red cherry colour
Nose: Intense and complex. Black fruit nuances from a ripe and full grape stand out and mix with the barrel roast, providing spicy and cocoa notes
Palate: It is a full wine with a strong character, also fleshy and elegant, with a mature tannin that provides a tasty aftertaste.