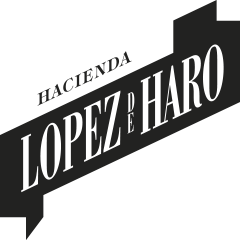 Hacienda López de Haro
Reserva Blanco
A white wine that encapsulates the complexity of the terroir and its alliance with the passage of time.

Varieties: Mostly Viura, with small percentages of Malvasía, Tempranillo Blanco, Garnacha Blanca and Turruntés.
Ageing: 18 months in Eastern European oak barrels, mainly, but also some French and American oak. Bottle aging for more than 3 years.
Harvest: Manual harvest between September 18-26.
Vineyard: Selection of old vineyard plots planted around the 1980s and some younger plots with great varietal richness, located in Sonsierra and Alto Najerilla.
Winemaking: 24 hours of maceration, soft pressing and controlled fermentation in stainless steel tanks.
Alcohol content: 12,5%
Tasting notes
Colour: The golden tones stand out due to its extended period of aging. Medium-high intensity, it maintains a special luminosity in the glass as a result of its great liveliness and shows certain grayish nuances on the rim.
Nose: : Very delicate, high intensity and particularly complex. It represents a blending over time of the primary floral notes of the grape along with the more complex tones of leaf litter and vanilla provided by a barely toasted barrel. All these notes are wrapped in sweet, creamy nuances that have been integrated into the wine during its prolonged aging in the bottle.
Palate: Its enveloping acidity stands out throughout its journey. With a linear passage and an eternal finish, it is a faithful example of the mythical fine wines of Rioja. Austere on the palate, but with great elegance, it is a wine that makes you salivate constantly, generating a silky and pleasant dimension.